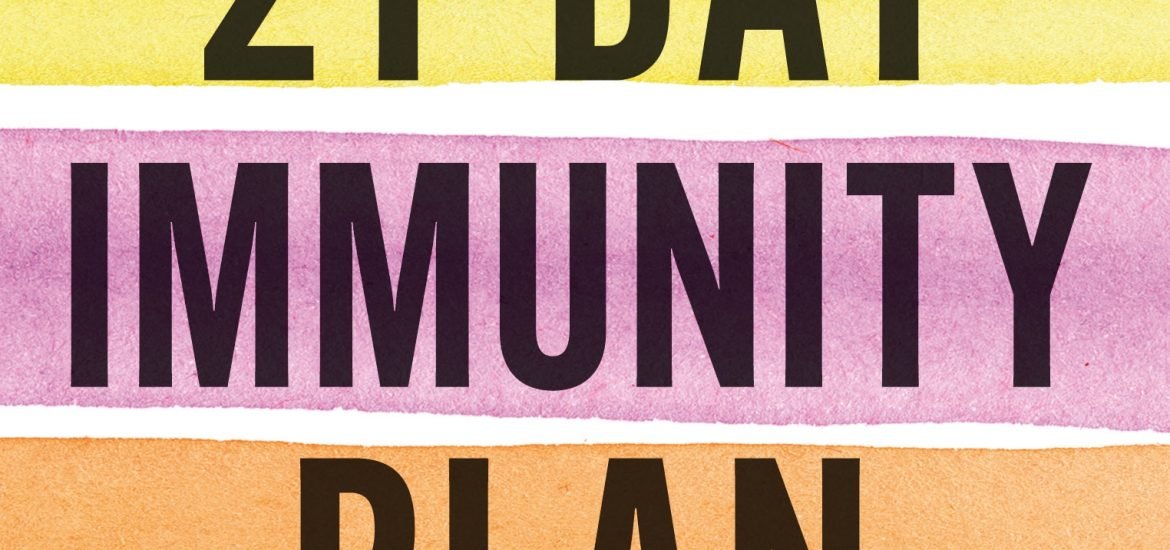 Winter is coming and the current spate of Coronavirus-related news is not encouraging: the pandemic is ravaging Europe, efficient cures are still just over the horizon, and many are prophesizing that the second wave will hit us even harder than the first one. But amidst this doom and gloom, Dr. Aseem Malhotra's book, The 21 Day Immunity Plan (1), is a much needed breath of fresh air.
Malhotra is a familiar name for European Scientist readers – in one of our most read articles of the year, Covid-19 and the elephant in the room, Dr. Malhotra excoriated the mainstream media for their failure to notice the role nutrition has in the outcome of Covid-19 cases. Obesity, diabetes and other metabolic diseases led to increases hospitalization rates, overwhelming the NHS:
The government public health message enhanced by the media to stay at home, protect the NHS and save lives has been powerful and effective. Given the speed at which health markers for metabolic disease improve from dietary interventions, an equally strong if not more significant population health message should now be to "eat real food, protect the NHS and save lives."  
Driving that point home, Malhotra has now followed up on this story with a solid 21-day program on how to optimise the immune fonction.
The diagnosis
The book starts with a strong and obvious comment about the pandemic : What was missing from the mainstream media discussion and public health messaging surrounding the virus, was that the underlying root cause of these conditions is related to lifestyle. But Malhotra's point is not to moralize but to provide solutions, and the book quickly jumps to a quote from one of the greatest endocrinologists, prof. Robert Lustig:
'Prevention is not just better than cure, prevention IS the cure.
This powerful mantra is essential to understanding what went wrong with Covid. If public health systems everywhere have been hit so hard by the disease, it is because our society has not yet found the way to « tackle the increasing burden of chronic disease ». Not only has this caused millions of deaths, but it has put our healthcare system under stress. The main scientific statement of the book is that
« Most of the chronic conditions, which include heart disease, type 2 diabetes, high blood pressure and even cancer and dementia, are rooted in poor metabolic health. » This concept is defined as « the state of balance the body maintains between storing fat and burning it for energy. Once this balance is disrupted, health is adversely affected. »
From the Canguilhem « The Normal and the Pathological » point of view, one could question if there's any « normality » to define this concept, but, what is sure is that there are five markers to measure it: 
Blood glucose levels;
Blood pressure;

 

Waist circumference;

 

Cholesterol profile, (body's levels of triglycerides – a type of harmful fat found in the blood)
High-density lipoprotein (HDL-C), a beneficial cholesterol-carrying molecule
Taking in consideration those parameters, the author of Pioppi Diet, states that  « through very specific lifestyle changes, we can significantly improve and potentially normalise the levels within as little as 21 days. »
This bold claim may give hope to people suffering from metabolic health worldwide (1) – while such illnesses are not always caused by obesity they are, however, related (2). So how is the great frequency of unbalanced metabolic systems linked to the growth of severe Covid cases and hospitalisations ? The explanation seems obvious to Malhotra : 
« When a person has a background of chronic inflammation and is then exposed to a virus, the cells that are responsible for fighting that attack do not function as effectively as they should. These cells, called macrophages, are a type of white blood cell that engulf and digest foreign invaders (antigens), cancer cells and any other cells that are not recognized as healthy. In addition, excess body fat in the abdomen that surrounds the liver, pancreas and even fat underneath the skin (subcutaneous fat) release too much of several pro-inflammatory cytokines. Cytokines are a group of proteins released from immune cells to help regulate the immune response through communication with other cells in the body. It's the 'cytokine storm' from an abnormal immune response that leads to the acute respiratory distress syndrome that causes severe lung injury and death in many of those who are killed by COVID-19. Global data has also revealed that in those under the age of 50 that succumbed, being obese was the biggest risk factor for hospitalisation and death. »
Age, therefore, is far from being the only factor affecting the outcome of Covid cases. The other risk factors are « related to high blood glucose or poor metabolic health driven by excess body fat, and chronic inflammation. Combined they all lead to a sub-optimal immune response. We should therefore think of metabolic disease as a disease of the immune system too. »
The program
Taking in consideration that 80% of chronic disease is attributable to lifestyle (3), Malhotra thinks that we can easily act to change this one, and that is the plan he is proposing in his book: to reverse risk factors for metabolic health in 21 days of diet and lifestyle changes. 
Of course, one will question the arbitrary choice of 21 days. Why would three weeks be enough? Well, as it happens, the number 21 is explained at length by the author, who refers to numerous studies (4) as well as his first-hand experience with the program. In the context of the book, this is justified by good pragmatic reasons such as: 
« For most people it takes three weeks to break any habit, or for many what is a form of addiction to sugar and ultra-processed food. »
« Most people with adverse metabolic health will start to see marked improvements to their health and/or shape albeit to different degrees within three weeks, without having to count calories. »
« It is the need to change the narrative around the impact of lifestyle changes and show that their effect on health can be rapid and substantial. We should use this to motivate ourselves to continue to reap the benefits of improved health for life. »
So how consistent is the 21-day immunity plan? What does it takes from us ? Is it not too demanding ? Of course, we will not divulge here the "secret sauce" of the book. Let us just sum it up in one sentence « It is one that involves nutritious food, helps regulate and reduce inflammation, combat insulin resistance and overall improves metabolic health. It should be  enjoyable and be in keeping with all cultures and personal preferences.»
Program

• Lose excess body fat in a sustainable and enjoyable way, which will improve metabolic health irrespective of weight loss.
• support normal immune function and make you more resilient to fight infection through food, nutrition and lifestyle measures
• reduce the risk of developing type 2 diabetes; help control blood glucose and the need for medications for those with the condition; and potentially reverse or send it into remission
• reduce high medication loads and prevent and manage heart disease
get you on the road to significantly reducing your risk of developing dementia and cancer.
Health policy in question
The book concludes on the public health implications of Malhotra's diagnosis. The chapter is introduced by a quote from famous German physician Rudolf Virchow: For medicine to achieve its greatest task, it must enter the political and social life. The Covid crisis is the occasion to influence politicians in the process and draw their attention to problems that have been bubbling under the surface for decades. After a strong attack against the processed food industry, the doctor calls on politics to take strong action, and outlines a ten-point program for the government. The first proposition, for example, is taxing all ultra-processed foods and drinks
On this latest point, we will be more skeptical even if we understand the intention. Of course our health is a political issue, but some governmental decisions can be very ineffective, and even counterproductive, when poorly implemented or when politicians are informed by bad science. The road to hell is paved with good intentions as we know and history is a succession of political failure, especially on the healthcare topics. Let us remember the fat tax in Denmark, for example (7). So one can never be sure that politics will be wise enough to make good decisions in order to change our lifestyle. And one can easily understand why. Everyone of us can read Dr Malhotra's book and follow the 21 days plan for himself and at his own rhythm and experiences success. But when it comes to health policy, politics can only decide that "one size fits all".
So this last point is an additional argument to persuade you that the solution is in your hand and not in someone else's business. You have to get immediately The 21 Day immunity plan and take action now. 
This program is the best option you have to balance your metabolic system and get immunity in order to face the eventuality of a returning Covid. And if you need one more reason to get this five stars book, just read what Professor Karol Sikora – leading WHO cancer specialist and Founding Dean, University of Buckingham Medical School – says about it :
"This remarkable book will change your life. Beautifully written, it compiles in one place the health messages we all know make sense. Doctors deal with the diseases caused by years of avoidable damage to the intricate functioning of our body systems. The 21 day immunity plan makes such good sense. Aseem, an expert cardiologist and leading lifestyle advocate has put together an astounding account of how to avoid the real 21st century pandemic – obesity, metabolic syndrome and inactivity. Sugar, salt, fat and alcohol are the heavily marketed causes of much disease, suffering and death.

Covid-19 will gradually disappear but the consequences of lifestyle induced illnesses will continue to cause endless premature deaths. No spikes, no peaks – just a rising tide of avoidable illness. A sensible diet and lots of exercise are cheap and have a far more powerful  pharmacology than all prescription drugs put together.

This is not alternative medicine selling you a quirky and unachievable package. It's as mainstream as it gets. Make the decision to follow this plan and you will look and feel better. Only you can make it happen."

——————————
1) The 21 Day Immunity Plan by Dr Aseem Malhotra is out now published by Yellow Kite https://www.amazon.co.uk/gp/aw/d/1529349672/ref=tmm_pap_title_0?ie=UTF8&qid=1598586026&sr=8-1
2) « As of 2017, six out of the top ten causes of death in the USA can be attributed to sub-optimal metabolic health and 8 out of 10 are predominantly influenced by lifestyle and environment (the conditions in which we are born, grow, live and work). Similarly, the leading causes of death in the UK are also rooted in poor metabolic health »
2) « With regard to metabolic health, however, only 1 in 200 who are obese will be metabolically healthy (have all 5 parameters in the normal range) so for all intents and purposes obesity is still an important marker of having excess body fat, and therefore highly suggestive of being metaboli- cally unhealthy. »
3) « And within the lifestyle hierarchy, poor diet is the most important contributor, now responsible for more disease and death than physical inactivity, smoking and alcohol combined. Global deaths from sub-optimal nutrition are currently estimated to be at 11 million per year. »
4) « A previous diet and exercise study carried out by researchers at the University of California involving 31 participants also revealed reversal of metabolic syndrome in 50 per cent of those that followed a low-fat, high-fibre diet combined with 45–60 mins of moderate intensity exercise per day. Markers of insulin resistance improved but again there was no correlation with weight loss suggesting an independent benefit on metabolic health. Similar rapid improvements in markers of metabolic health with reversal of metabolic syndrome in all participants were observed in a trial involving 7 obese children from a diet and exercise program within 21 days. »
5) « The food industry spends hundreds of millions of dollars glob- ally in marketing cheap nutritionally poor ultra-processed food and drink. For example, In the UK in 2017 the food industry spent £143 million in advertising crisps, confectionery and sugary drinks, more than 27 times the government expenditure on healthy eating campaigns. »
6) "Taxation of all ultra-processed foods and drinks needs to be enforced with the money gained going directly to subsidise whole and minimally processed foods, such as fruit and vegetables"
7) https://www.washingtonpost.com/gdpr-consent/?next_url=https%3a%2f%2fwww.washingtonpost.com%2fnews%2fworldviews%2fwp%2f2012%2f11%2f11%2fwhat-the-world-can-learn-from-denmarks-failed-fat-tax%2f
Related
This post is also available in: FR (FR)