A New Controversy
A new controversy about SARS-CoV-2 is rocking the social media world. Conspiracy theorists are having a field day! According to some people – including the extraordinarily talented professor Luc Montagnier, recipient of the Nobel prize in medicine in 2008 for his discovery of the human immunodeficiency viruses (HIV) – the SARS-CoV-2 would have been engineered and contains some genes of HIV-1.
On the French CNews channel, the researcher declared that
"we came to the conclusion that there was manipulation around this virus. […] To a part but I do not say the total […] of the coronavirus of the bat, someone added sequences, in particular of HIV, the virus of AIDS. […] It is not natural. It's the work of professionals, of molecular biologists. […] A very meticulous work." 
Countless of people commented on this news on Friday, April 17th, 2020 (here and there).
Normally, Brandolini's law – a.k.a. the falsehood asymmetry principle – imposes that a conspiracy like this takes hard work to debunk.
But, in our case, it does not. It is extremely simple to debunk.
Hypothesis
Let's start with the hypothesis that some nucleotide sequences of HIV-1 can be found in the complete genome of SARS-CoV-2.
Analysis
Let's look at the complete genome of SARS-CoV-2 (Wuhan), known as the National Center for Biotechnology Information (NCBI) reference sequence NC_045512.2. Its genetic code starts like so:
attaaaggtt tataccttcc caggtaacaa accaaccaac tttcgatctc . . . 
The HIV is a retrovirus. It is a type of RNA virus that inserts a copy of its genome into the DNA of a host cell that it invades, thus changing the genome of that cell. It is transmitted as a single-stranded, positive-sense, enveloped RNA virus, packed into a glycoprotein envelope. So, while the HIV has a DNA expression of itself, which is used for replication, it also has an RNA code (which is what gets transmitted between hosts.)
Let's thus consider the complete genome of the RNA version of the HIV-1, known as the NCBI reference sequence NC_001802.1. Its genetic code starts as follows:
ggtctctctg gttagaccag atctgagcct gggagctctc tggctaacta gggaacccac . . .
If we cannot find fragments of the latter sequence inside the former sequence, we can conclude that no part of HIV exists in SARS-CoV-2.
Looking for similarities could be somewhat complicated: we would have to look at sequences that actually encode for proteins. We cannot start blindly along the sequences. In fact, HIV-1 has 39 open reading frames (ORF), which begin with a start codon and end at a stop codon.
We would have to look for those ORFs and try to find the following codons inside of SARS-CoV-2. We would also have to measure the "distance" (similarity) between the sequences, somehow.
Luckily, all this work has been done for us by the Basic Local Alignment Search Tool (BLAST). Developed by NIH, it finds regions of similarity between biological sequences. The program compares nucleotide or protein sequences to sequence databases and calculates the statistical significance of said similarities. For each similarity, it even documents which protein it encodes.
Using the MegaBLAST subprogram from the National Institute of Health (NIH), we can immediately conclude that no sequence of HIV-1 is present in SARS-CoV-2.
Per BLAST, "no significant similarity was found". In plain English, SARS-CoV-2 is not made of the bat coronavirus and small bits of the HIV virus.
I strongly invite the reader not to accept my word and to verify this on his or her own: from the complete genome of SARS-CoV-2, click "Run BLAST". On the next page, add HIV-1 (or any other HIV strain) in the Organism text box and then click "BLAST".
Vague similarities?
Now, are there any sequences of HIV-1 that would be "vaguely" similar to some other sequences of SARS-CoV-2 if we changed the criterion?
The answer is obviously yes as both viruses have a glycoprotein envelope. Even though if they belong to two completely different families – HIV is a lentivirus while SARS is a coronavirus – the two viruses are bound to have "something" in common.
In fact, this is what we can prove using BLAST:
As we can see, yes, the part of the HIV-1 genome and the part of the SARS-CoV-2 genome that encode the two (different) glycoprotein envelopes are circa 90% similar. See for instance the differences between the SARS-CoV-2 and the HIV-1 isolate XJ16-6 glycoprotein envelope:
The Common Cold
So professor Montagnier is right? While no proteinic sequence of HIV-1 is present in SARS-CoV-2, a tiny bit of the SARS-CoV-2 genome is in fact about 85% similar to a bit of the HIV-1 genome?
Does this not prove his point?
No.
In fact, the genetic sequence of SARS-CoV-2 that encodes its lipidic envelope, while it looks a bit like that of HIV-1, is also part of many other viruses.
In particular, it is also present in the Human Coronavirus 229E (which gives the common cold) or in the Human Coronavirus OC43 (also a variant of the common cold).
This is interesting because both viruses were discovered well before the HIV. A molecular clock analysis using spike and nucleocapsid genes dates the most recent common ancestor of all genotypes of these viruses to the 1950s.
There is no way someone in a Wuhan laboratory in 2019 could have affected the RNA code of a virus of the mid-1950s!
We can use BLAST again to analyze similarities of the 229E and the OC43 genomes to HIV-1: as we can see, their glycoprotein envelopes are coded with a similar – but by no means identical – RNA sequence: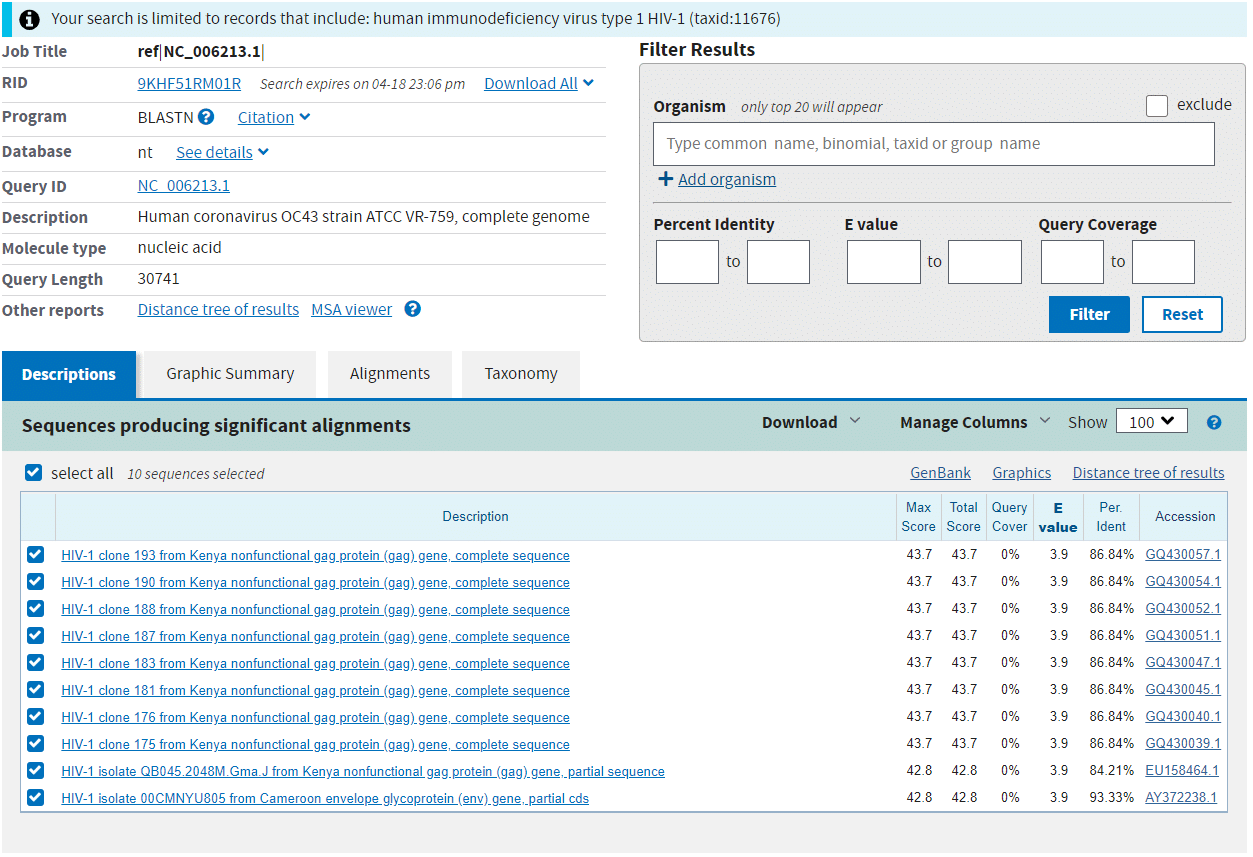 The proximal origin of SARS-CoV-2
This conclusion should not be surprising as the proximal origin of SARS-CoV-2 is well known.
As the number of conspiracy theories surrounding this origin was mounting, the journal Nature recently issued a correspondence about the important genomic features of the SARS-CoV-2 genome and its differences with other known coronaviruses.
In fact, the SARS-CoV-2 genome's most notable difference with other viruses is the receptor-binding domain (RBD) in the spike protein, which it uses to bind to the ACE2 receptor of human cells. Not only is this part the most variable of the coronaviruses genomes, but it also explains its potency in humans, ferrets, cats and other species with a high ACE2 homology.
As the authors of the Nature article note, "it is improbable that SARS-CoV-2 emerged through laboratory manipulation of a related SARS-CoV-like coronavirus. As noted above, the RBD of SARS-CoV-2 is optimized for binding to human ACE2 with an efficient solution different from those previously predicted. Furthermore, if genetic manipulation had been performed, one of the several reverse-genetic systems available for betacoronaviruses would probably have been used. However, the genetic data irrefutably show that SARS-CoV-2 is not derived from any previously-used virus backbone."
Through two radically different kinds of reasoning, the authors of Nature's article and the BLAST software lead us to the same inescapable conclusion that the SARS-CoV-2 is likely a product of nature, born out of Darwinian selection.
Related