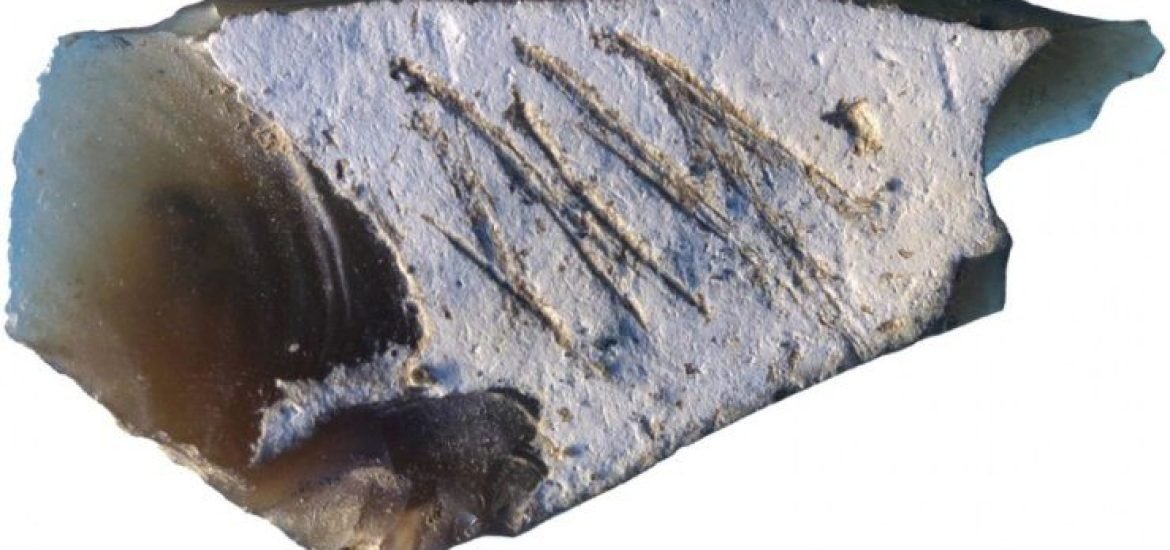 Neanderthals may have carved stones with symbolic intent around 35,000 years ago. According to a new study, Neanderthals intentionally etched a series of grooves into a piece of flint in order to communicate information. The findings add to recent evidence that Neanderthals were capable of symbolic thinking and producing symbolic art.
Although Middle and Lower Paleolithic stone artefacts with etched markings have been found at 27 sites across Europe and the Middle East, scientists have faced difficulty confirming whether the engravings were intentional or accidental, as well as why they were made.
To help archaeologists determine the intentionality behind these ancient engravings, a team of researchers in France created a new methodology to compare the markings' attributes with possible actions that caused them. Using this framework, the team analysed an etched stone flake found at Kiik-Koba, an archaeological site on the Crimean peninsula in Eastern Europe.
Led by Anna Majkic, an archaeologist at the University of Bordeaux, researchers used techniques including "microscopic analysis and 3D reconstruction of the grooves on the cortex of this small flint flake," according to a paper they published in the journal PLOS One on Tuesday. The team then determined that "the incisions represent a deliberate engraving made by a skilled craftsman, probably with two different points."
Researchers said the flake's edges show that it was broken off from a larger piece before being carved, and that the piece of flint is too small to have served any other purpose, such as a tool for cutting or scraping. Furthermore, the precision of the marks suggests they were engraved with some type of intentionality rather than as a careless drawing. According to the study, "The production of the engraving required excellent neuromotor and volitional control, which implies focused attention."
The team also dismissed the possibility that the grooves represented some type of count, reports Cosmos Magazine. Since the lines appear to be intentionally overlapped in places, the etchings would have been ineffective for counting.
Majkic and her colleagues therefore concluded that the Kiik-Koba flake should be added "to the growing body of evidence" suggesting Neanderthal culture "included practices that could be consistent with symbolic interpretations."
Earlier this year, a team of researchers from the United Kingdom and United States published evidence that Neanderthals were painting artwork in caves more than 64,000 years ago – around 20,000 years before the earliest evidence of modern humans in Europe. The ancient paintings, discovered in a cave in Spain, are the earliest evidence of symbolic behaviour and suggest Neanderthals shared a cultural competence with early humans.
The University of Bordeaux team said they hope to fine-tune their methodology so that it can be used to examine the symbolic intent of similar engravings as well as artefacts from other time periods and cultural contexts.
Photo credit: MAJKIC ET AL (2018)
Related