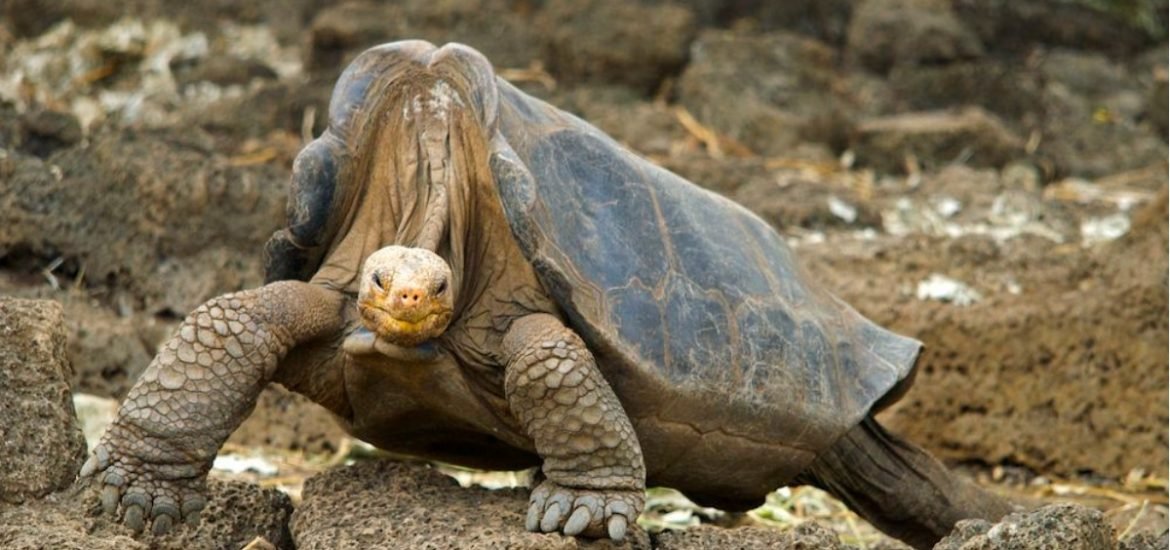 A study published on 3 December in Nature Ecology & Evolution has provided clues as to why some tortoises can live so long ― sometimes more than 100 years in captivity (1). In fact, giant tortoises are one of the longest-lived organisms on Earth.
Researchers from Yale University, the University of Oviedo in Spain, the Galapagos Conservancy, and the Galapagos National Park Service sequenced the genome of Lonesome George, the last member of the tortoise species that formerly lived on the Galápagos island of Pinta, Chelonoidis abingdonii. George died in 2012. They also sequenced the genome of a different species of giant tortoise, Aldabrachelys gigantea, that still inhabits the Aldabra Atoll in the Indian Ocean. Both tortoise genomes were compared to those of a range of other animals species to determine what makes these reptiles so special.
So far, they have discovered that the giant tortoise genomes possess a number of gene variants linked to DNA repair, immune response, and cancer suppression, which shorter-lived vertebrates do not possess. The tortoises were found to have genes that have previously been linked to longevity in humans and owing to environmental pressures, those genes have been positively selected in tortoises. By analysing 891 genes associated with the immune system, they also discovered the tortoises have duplicates of immune-related genes that are not duplicated in the human genome. They also uncovered tumour-suppressing genes, genes related to DNA repair, and genes that help stave off oxidative stress, which can cause certain age-related problems. Further research is still needed to determine exactly which genes contribute to a longer life and why.
The authors also pointed out that "an important trait of large, long-lived vertebrates is their need for tighter cancer protection mechanisms," referred to by biologists as Peto's paradox. In other words, larger animals have more cells and longer lifespans and therefore ought to be more susceptible to cancer but surprisingly this is not the case in many large species, such as elephants and whales, and it would seem, also tortoises. Looking at the giant tortoise genomes, the geneticists found extra copies of genes known to suppress tumour formation. In addition, they observed duplicates of some other genes that may aid the immune system in identifying and destroying cancer cells.
Giant tortoises used to roam most of the planet but now can only be found in remote, mostly tropical, areas where to some degree they seem to have avoided the perils of climate change and human invasion. However, giant tortoise species have been in slow decline for the past one million years. Unfortunately, researchers were too late to save George's species but his genome is still telling stories. The authors hope these new genome sequences will "provide important resources to help the efforts for restoration of giant tortoise populations."
(1) Quesada, V. et al. Giant tortoise genomes provide insights into longevity and age-related disease. Nature Ecology & Evolution (2018). DOI: 10.1038/s41559-018-0733-x
Photo credit: Arturo de Frias Marques
Related