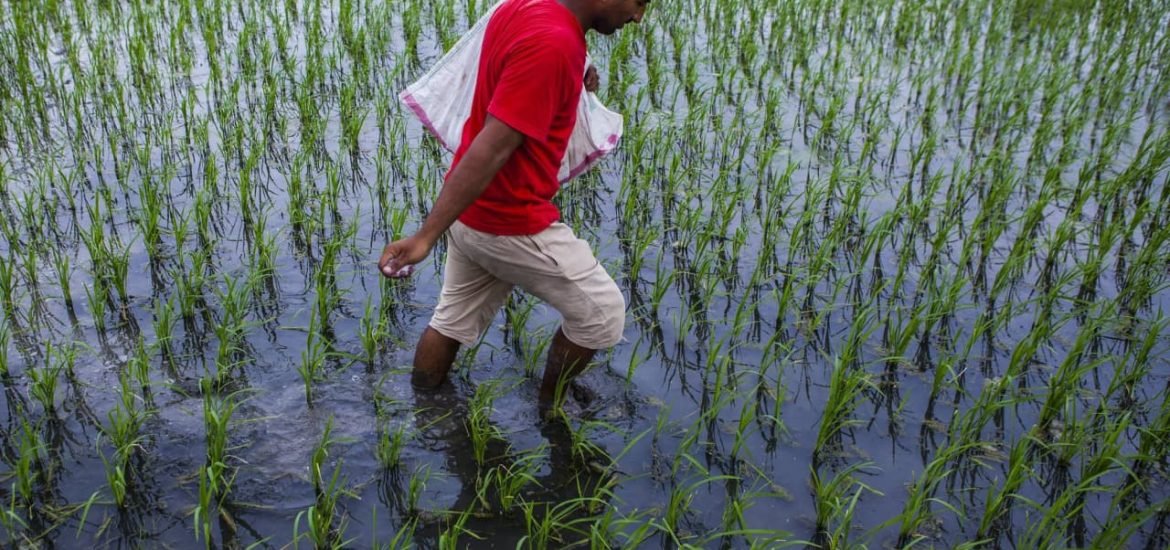 The links between global food systems, food security and climate change have never been more obvious. 
The worst-case consequences of rising temperatures and drought played out this year in Madagascar with the first famine induced by climate change. Research suggests an additional 600 million people (1) could be facing hunger by 2050 with a 2°C increase in global temperatures. 
The international community needs new policies, technologies, and institutions to drive changes in the way we feed ourselves, adapt farming to the consequences of climate change, and mitigate the third (2) of total greenhouse gas emissions caused by food production, distribution, and consumption.  
 Agricultural research and innovation have helped avert crises on a global scale before.  
Pioneering crop science saved millions from hunger and famine 50 years ago when CGIAR was founded, for example. Since then, our research has provided a 10:1 return on investment (3) through increased food production, reduced levels of poverty and hunger, and a smaller territorial footprint of agriculture than there would have been with lower yields.
But today's global challenges are infinitely more complex and interconnected. Solving them – by transforming food, land and water systems in a climate crisis – requires a new approach to agricultural research that cuts across health, business, and education and investment on a scale equal to the existential threats we face.
Advanced economies are increasingly recognising the need to ramp up support for agricultural research and innovation, as demonstrated by recent vital pledges (4) from the European Commission, Belgium and the Netherlands.
The Agriculture Innovation Mission for Climate (AIM (5)), under the leadership of the US and UAE, is also bringing together key players to increase global research and development in agriculture and food systems to better steward food, land, and water systems with CGIAR as a knowledge partner.
And with sustained support and investment for a comprehensive portfolio of new research initiatives, we have every chance to uncover new solutions and practices. This is vital both for reducing the contribution of agriculture to climate change, and adapting to its increasingly evident consequences, all while minimising the trade-offs for livelihoods, nutrition and equality.
To address the interconnected challenges the world faces, agricultural research and innovation must move away from focusing exclusively on producing more, towards producing more, better and smarter.
Doing so starts with investing in new ways to gather better and more accurate data about agricultural emissions (6) because we cannot manage – or adapt or mitigate – what we cannot measure.
By funding the design of new methodologies for quantifying emissions, governments can refine their national strategies with greater confidence to ensure that agricultural emissions fall by 1 Gt per year by 2030 to reach a floor of 5 Gt per year by 2050.
Not only is this possible, but countries are already benefiting from breakthroughs in measuring national emissions rather than relying on global estimated averages. Kenya, for example, is able to report baseline greenhouse gas emissions to the UN thanks to a method of generating localised data (7) about methane and nitrous oxide emissions from livestock. 
Financing agricultural research is also critical to identifying how to adapt food systems to the changes that are already impacting production, especially in the Global South.
Without adaptation, farmers across East and Southern Africa face a decline of up to 15 per cent in their maize yields because of climate change, which represents a significant loss given the cereal is planted across 75 per cent (8) of the cropping area in some countries.
Agricultural research can support smallholder families to become less reliant on traditional staples like maize by developing and deploying alternative crops that can better withstand drier conditions.
And with investment in both conventional breeding and genetic innovation, scientists can develop crop varieties (9) and livestock breeds (10) that also have a lower environmental footprint and require fewer resources like water and land.
Previous CGIAR research projects have successfully taken local breeds or varieties that are already adapted to certain environments and enhanced them with more nutrients, for example, or traits that allow them to thrive in more extreme conditions. 
But the full potential to harness the benefits of climate-smart varieties at scale remains untapped and there for the taking. 
Agricultural research has the potential to help break the feedback loop that currently means food systems are now suffering as a direct result of the emissions they, in part, have contributed.
And by investing in research, it is possible for science and innovation to transform agriculture into part of the climate solution, with the opportunity to reduce emissions while also tackling hunger, malnutrition and poverty.
This will not happen by accident, it can only happen by design, and this design can be led by agricultural scientists and researchers.
(1) https://cgspace.cgiar.org/bitstream/handle/10568/110918/OneCGIAR-Strategy.pdf?sequence=6&isAllowed=y
(2) https://www.nature.com/articles/s43016-021-00225-9
(3) https://issues.org/rekindling-magic-agricultural-research-development-alston-pardey-rao/
(4) https://www.cgiar.org/news-events/news/european-commission-the-netherlands-and-belgium-pledge-more-than-e220-million-to-cgiar/
(5) https://www.aimforclimate.org/
(6) https://www.cgiar.org/initiative/32-transforming-food-systems-from-greenhouse-gas-sources-to-sinks-s2s/
(7) https://www.cgiar.org/innovations/models-and-methodologies-to-track-emissions/
(8) https://www.cgiar.org/initiative/21-ukama-ustawi-u2-water-secure-and-climate-resilient-agricultural-livelihoods-in-east-and-southern-africa/
(9) https://www.cgiar.org/initiative/01-accelerated-breeding/
(10) https://www.cgiar.org/initiative/17-sustainable-animal-productivity-for-livelihoods-nutrition-and-gender-inclusion-sapling/
Read More on sustainability 
Enabling genome editing to make Europe's agriculture more sustainable
The EU's 'Farm to Fork' Strategy Is Ill-Conceived and Destructive
Moore/Gibbs are wrong : science and technology are the path to a greener future
Related