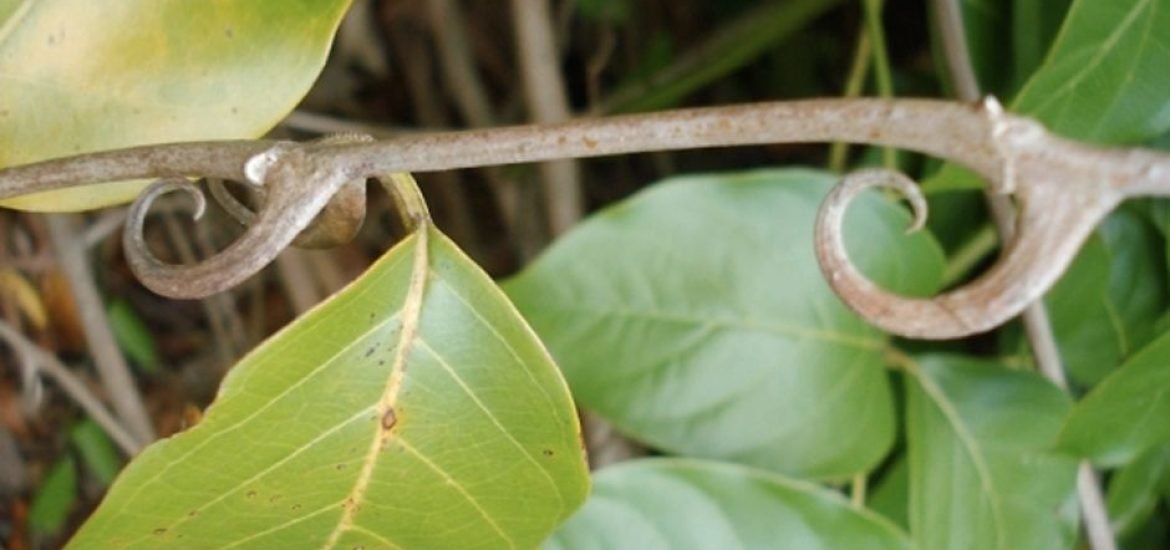 Experience teaches us that new remedies, even if they come directly from nature's treasures, should not be given immediate and unlimited accolade. After the desired healing effects, undesirable side effects often occur or it turns out that only a minority of people respond to the new medicine at all. The bast (or bark lining) of the cat's claw (Uncaria tomentosa), a liana species native to the Amazon rainforest of Peru, Bolivia and Brazil, among others, is apparently an exception. Holistic physicians are constantly finding new applications for the natural medicine available in powder form or as liquid extract in the form of drops.
The liana Uña de Gato (cat's claw), recognised as a medicinal plant by the World Health Organisation (WHO) since the 1990s, can grow up to 30 centimetres thick and 30 to 60 metres high. It owes its name to the cat-claw-like appendages which help it cling to its host plant. According to legend, the Inca Indians have been using the bark or the underlying bast and roots for thousands of years to produce natural medicines against infections and chronic inflammation. Biochemists attribute the healing effect to the indole and oxindole alkaloids, polyphenols and terpenoids contained therein. With these predominantly toxic substances, the plant apparently protects itself from the attacks of the fungi, viruses and bacteria omnipresent in the humid tropical forest.
In humans, these substances have immunostimulating, antiviral, antibacterial, antifungal, antiparasitic, anti-inflammatory, analgesic, mild anticoagulant and antihypertensive effects. There are other effects which cannot all be listed here. One of them, however, is a mild contraceptive effect. Women with an urgent desire to have children should therefore do without cat's claw for a while. Apart from that, the indole alkaloids such as isopteropodine, rhyncophylline, uncarine F, hirsutin and mitraphyllin have hardly any undesirable side effects. However, the tetracyclic oxindole alkaloids (TOA) contained in bast have proven to be somewhat problematic. They can reverse the effect of other alkaloids and cause gastric bleeding due to the anticoagulant effect. Therefore, the TOAs are removed from the most common medical preparation of cat's claw ("Samento").
Based on numerous clinical studies with Samento, physicians now assume that this can increase the overall immune competence of the human organism by up to 60 percent. Cat's claw extracts stimulate the macrophages and granulocytes of the blood and regulate the proliferation of lymphocytes. Samento is therefore suitable for combating various disorders of the immune system, including HIV. In practice, however, natural medicine is usually used in combination with products from the pharmaceutical laboratory. In particular, Samento has proven itself in the prevention of colds. A holistic physician practicing in my neighbourhood recommends a "rocking therapy" to her patients: 15 to 20 drops twice a day for four days, then a three-day break. In this form cat's claw preparations are also suitable for the permanent therapy of chronic inflammations of all kinds such as arthrosis and arthritis.
Its antibacterial, antifungal and antiviral effects have proven particularly effective in combating persistent infections such as Lyme disease, Candida, Eppstein-Barr (glandular fever), herpes, bladder infections, hepatitis, prostatitis, gastritis and Crohn's disease. Chronic fatigue syndrome (CFS) also responds. Last but not least, Samento has also proven itself in supporting cancer treatment. It protects the mucous membranes during radiation and reduces the negative side effects of chemotherapy.
In contrast to Austria, where cat's claw capsules are officially recommended to support the treatment of rheumatoid arthritis, this natural medicine is unfortunately not yet approved in Germany in the form of standardised drugs. Of course, everyone is free to purchase non-standard preparations in the form of teas, powders, capsules or drops. Here, however, one has to reckon with large fluctuations in effectiveness. Caution is therefore called for. However, extremely negative effects are largely excluded with TOA-free preparations. Only a few people reported headaches and nausea due to the bitter taste of the tannins contained in Samento.
Samento is just one example of natural antibiotics. There are a number of other plant antibiotics, also of local origin, which you can also produce yourself. More about that some other time.
Related
This post is also available in: FR (FR)DE (DE)