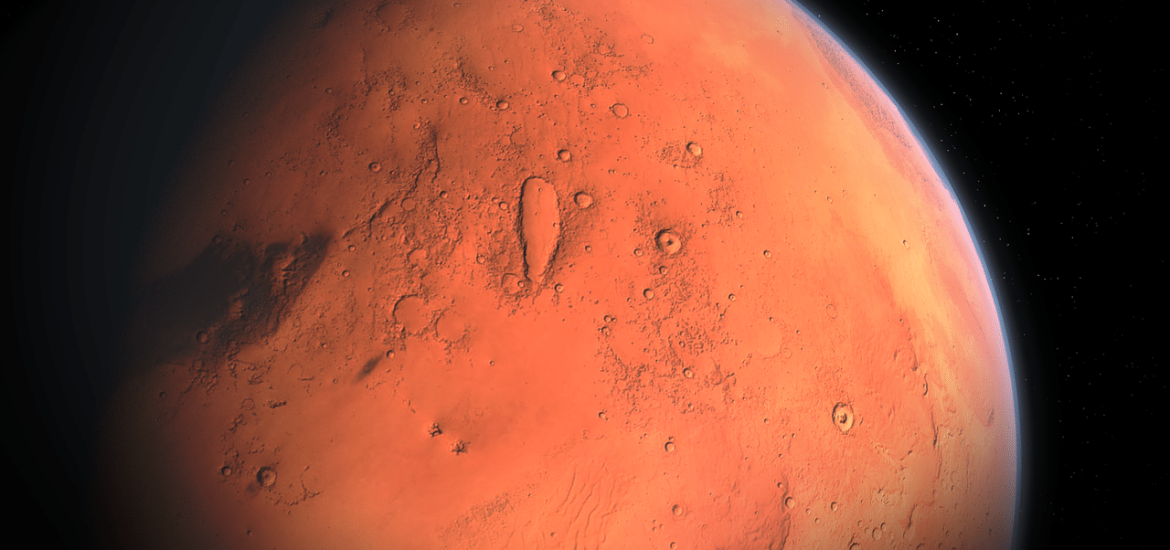 NASA's Perseverance rover mission is only a few days away from landing on planet Mars. On February 18th at 21.43 CET, the spacecraft is due to land on the Red Planet after a 292.5-million-mile (470.8-million-kilometres) journey. The aim? To look for microbial life.
To land on Mars, Perseverance will have to endure an action-packed, nail-biting seven minutes to reach the surface of the planet. The rover will plunge through the atmosphere at more than 20,000 kph (12,000 mph), with a supersonic parachute slowing it down at about 3 kph (2 mph). When it's close enough, the descent stage will lower the rover hanging from three cables to – hopefully – land gently on the Jezero Crater.
For the scientists at NASA, Jezero Crater is the perfect location not only to look for signs of ancient fossilised microbial life but also increase our knowledge of Martian geology. Billions of years ago, this 28-mile-wide crater was filled with water, and rocks and dust collected by Perseverance could be the answer to fundamental questions about the existence of life beyond Earth.
Old technology, new technology 
Perseverance is the latest development in NASA's $2.7 billion Mars mission. The rover blasted off Cape Canaveral, Florida, on July 30th, 2020, at a time purposely picked to need the least amount of power for the journey. Surprisingly, at around 1000 kg (2,300 lbs), Perseverance weighs less than a small car. The rover is about 3 m long (10 feet), 2.7m wide (9 feet) and 2.2m tall (7 feet).
If you think the design looks somewhat familiar, it's because it's based on the famous Curiosity rover. Perseverance has a similar rectangular body, six wheels, an arm and a drill. In fact, about 85% of the new rover Perseverance is based on the technology used to build Curiosity.
But Perseverance also includes some new developments. One of this is designed to help pave the way for human exploration of Mars. MOXIE – short for Mars Oxygen In-Situ Resource Experiment – is a device about the size of a car battery that can generate oxygen from the carbon dioxide found in the Martian atmosphere. If it can be scaled up, it could be a start for humans to get a foothold on the Red Planet.
Onboard the rover, there is also the Mars Entry, Descent and Landing Instrumentation 2 (or MEDLI2). Its only purpose is to collect data about the harrowing journey through the plant's atmosphere. It is hoped this will help improve the designs of future missions to the Red Planet.
Then, there's a tiny helicopter named Ingenuity, carefully tucked away in Perseverance's 'belly'. This small device will attempt the first flight test on another planet. If the first flight is a success, Ingenuity will have a few more to do. Data acquired during these flight tests will be used to develop Mars helicopters to provide an aerial dimension to Mars exploration.
Live coverage
If you're interested, you can follow Perseverance's descent live from NASA's Jet Propulsion Laboratory in Southern California from 2:15 p.m. EST on the NASA TV Public Channel and the agency's website, as well as the NASA App, YouTube, Twitter, Facebook, LinkedIn, Twitch, and THETA.TV.
"If there's one thing we know, it's that landing on Mars is never easy," said NASA Associate Administrator for Communications Marc Etkind in a press release. "But as NASA's fifth Mars rover, Perseverance has an extraordinary engineering pedigree and mission team. We are excited to invite the entire world to share this exciting event with us!"
Related